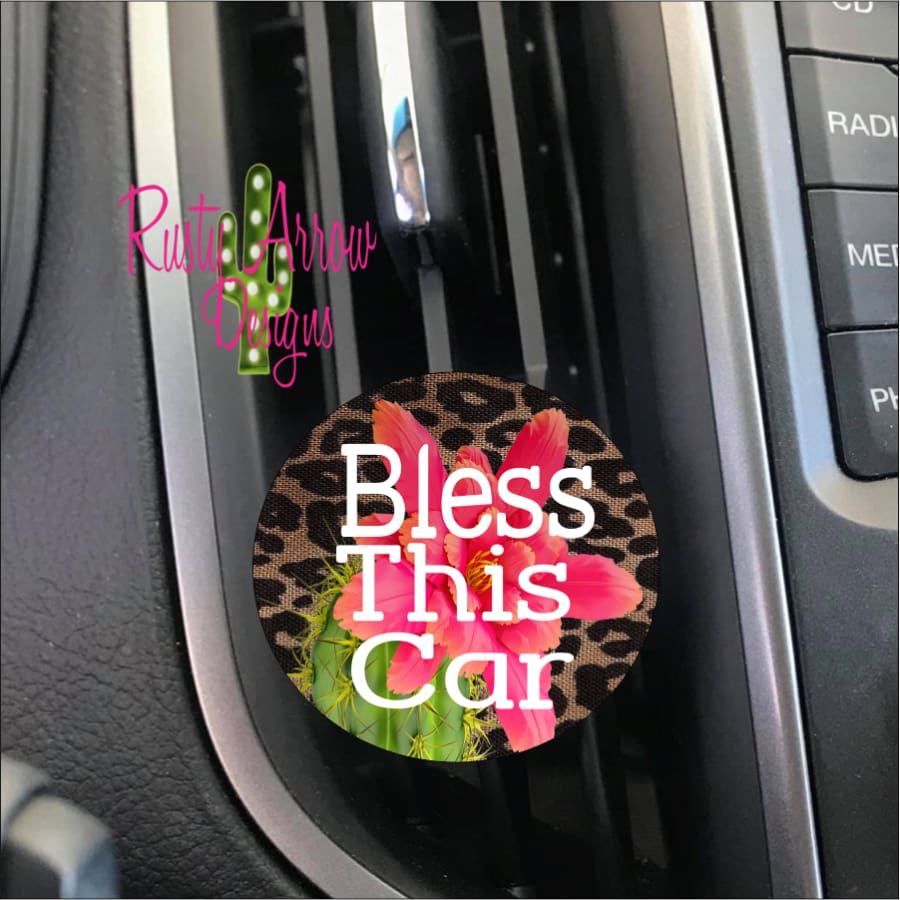 Bless This Car Vent Clip
$12.00
Clip attaches to vehicle vents.
4 Scented disk are included with each clip
Vent Clips come Packaged with Pre-Scented Disks and Instruction Card.
Decorative front 1.625" diameter
Available Scents
Everyday Scents
Pucker Up- A refreshing blend of watermelon and freshly squeezed lemons.
Leather & Lace- Leather goods with the soothing smell of the well known chamomile aromatic herb.
Bird Of Paradise- Pink jasmine and sheer musk combined with juicy strawberry, pomegranate and creamy vanilla.
Rugged- Leathery bouquet that smells like the inside of a saddle shop.
Renegade- An exotic fragrance with notes of raspberry, chocolate, and leather.
High Maintenance- Sexy, sensual and demanding!  This floral, woodsy blend has an alluring, exotic musky tone.Patchouli, vanilla and more musk
Tropical Oasis- A green floral bouquet reminiscent of coconut and fruity notes with a sweet musky background.
Pixie Dust- An exhilarating blend of raspberry lychee sorbet, sun-kissed magnolia, and vanilla sandalwood.
Cowgirl Kisses- A sweet berry and nutty blend with Leather.
Mahogany Woods- Top notes of fresh Mahogany, blood orange and red pepper on a bourbon vanilla sandalwood.
Black Heart- A truly amazing men's fine fragrance with notes of citrus, sea salt and amber wood.
Lick Me All Over- exotic fragrance with base notes of raspberry, cantaloupe, and watermelon, middle notes of jasmine and violet, and fresh top notes of grapefruit and kumquat.
Strawberry Wine- A blend of apple, peach and strawberry with a touch of vanilla.
Dusty Mexican Morning- An intriguing blend of peach, cherry, sweet Valencia orange with hints of Jasmine, Amber, Musk & Coconut Milk.
Phantom- Chicory wood on a dry base of supple leather accord, white patchouli, crystallized amber and diamond musk.
Vanilla Bean- The true aroma of fresh vanilla beans.
Butt Naked A saucy tropical blend of melons, strawberries, pears and fresh green apples
Cactus Blossom-The alluring beauty of a cactus flower captured in a blend of fresh white flowers, green cactus stems and sun kissed coconut.
Pucker Up- A refreshing blend of watermelon and freshly squeezed lemons.
Flower Bomb-Top notes of Calabrian bergamot and crushed green tea leaves with mid notes of Sambac jasmine, Centifolia rose, pink freesia, and red poppy on a dry base of nude musk, wild patchouli, and Mysore sandalwood
Sweet Grace-Green, citrusy, fresh top notes with floral middle notes of rose, jasmine & lily enhanced by long lasting woody, musky, earthy, amber & sweet cotton candy type bottom notes.
Pink Sugar-A favorite for all the ladies, sweets for the sweets
Black Ice- A duplication of the very popular cologne/perfume, a dynamic unisex fragrance.
Old Gringo- A blend of orange, chili pepper and other herbs leading to a sweet and exciting new aroma that will "KNOCK YOUR SOCKS OFF".Love Fall Scented Air Freshener

Holiday Scents



Drunkin' Pumpkin- A rich pumpkin scent blended with nutmeg, cinnamon, creamy caramel, and toasted vanilla.
Christmas Cabernet- The classic wine with a holiday twist. Notes of red grapes, pineapple, and banana peel atop mid notes of clove, ginger, and rose petals, complete with base notes of green vines, vanilla, and musk
Dickens Christmas- A fruity spicy bouquet with cinnamon, clove, nutmeg, and juniper notes with a sweet, musky background.
Cranberry Peppermint-Delightful scents of cranberry, peach, and wild berries mixed with peppermint, violet leaves, and clove on a bed of Tonka Bean, vanilla, and musk.
Home for the Holidays- features fresh spruce boughs wrapped in cinnamon and clove with a touch of winter citrus and fir balsam.
Jack Frost-This cool, wintery mix of cool mint, eucalyptus and cornmint highlighted with vanilla will stimulate and refresh your senses.